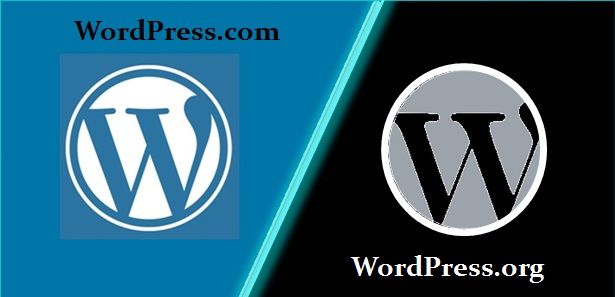 WordPress is one of the popular open source CMS (Content Management Systems) accessible, with massive users, developer and support communities. If you are new to WordPress, you have likely got confused in two versions of it: WordPress.com and WordPress.org. WordPress.com is like renting the resources while WordPress.org is like buying the resources.
The common difference lies in the hosting of the site or blog. WordPress.com host your site free of cost whereas WordPress.org doesn't host your product, and it also needs technical expertise for doing so.
WordPress.com is free (with options of paid upgrades), easy to use, hardly require any maintenance but limited in customization and doesn't provide plugin integrations. As against, in case of WordPress.org, the use of plugins are allowed, it also supports customization, but it is not free of cost, requires self-hosting.
Content: WordPress.com Vs WordPress.org
Comparison Chart
| Basis for comparison | WordPress.com | WordPress.org |
| --- | --- | --- |
| Analytics | Supports only built-in analytics. | Users have multiple options and can use any of the analytics programs. |
| Hosting | Is done by the site free of cost. | The user is responsible for hosting the site. |
| Customization | Limited | Fully fledged |
| Monetization | Provides fewer options to monetize your site. | Provides better monetizing options. |
| Ecommerce | Not suitable, stringent sales policy. | Provides a variety of sales policy. |
| Security | Measures are provided by the site. | Depends on the user. |
| Management | Doesn't require any management. | Require user side management. |
Definition of WordPress.com
WordPress.com is the prehosted version of WordPress which provides a platform to build blogs and website, and users need not host their site on their own, it will be hosted on the WordPress server. Whatever domain you select for free comprise of xxx.wordpress.com, it can be upgraded to a domain name without ".wordpress.com" part. Free hosting doesn't provide many options and is restricted to some sort of services, but there are paid add-ons are available. It is a good platform for the beginners.
It provides full maintenance, free or premium analytics, plugins, setup, upgrades, backups, security, hundreds of themes where we can edit its CSS but custom themes are not allowed.
Definition of WordPress.org
WordPress.org is the self-hosted and billable version of WordPress where the user is responsible for hosting of blog or website. It provides a vast customizing option which enables a user to make the product from scratch.
WordPress.org is used to achieve greater flexibility and control over design and functionality of your website or blog, but you are the one responsible for the maintenance of your site's component such as themes, plugins, core, security, etc. It eliminates limitations of WordPress.com and provides complete control over management.
Key Differences Between WordPress.com and WordPress.org
WordPress.com comes with built-in analytics, cannot be integrated with Google's tools if you pay for the premium plans. On the contrary, WordPress.org offers you to install one of many analytics plugins; even though few hosting contributors provides built-in analytics where a user can directly see insights on the dashboard.
WordPress.com hosts your blog on WordPress server whereas while using WordPress.org, the user is responsible for the hosting.
WordPress.org provides full-fledged customization. In contrast, WordPress.com offers limited customization.
In WordPress.com there are extensive ways to monetize your website or blog, and it enables integration with many e-commerce solutions. On the other hand, in WordPress.com ads are limited to advertising program "WordAds" for premium or business plans, and it is also not a good choice for e-commerce since it has stringent sales policy.
WordPress.com monitors for the security of your website or blog while in case of WordPress.org, security depends on users and which hosting provider they are opting for, etc.
WordPress.org requires technical aspects for site management and maintenance whereas users need not to manage and maintain their blog or site while using WordPress.com.
There is no access to SEO in WordPress.com, and user needs to register a domain to improve SEO. As against, WordPress.org supports many SEO plugins which can assist a user to enhance SEO.
Conclusion
WordPress.com is a good option for the beginners, the users who just want to host their personal writings and don't want to manage the CMS and hosting. On the other hand, WordPress.org provides the complete customizable platform, but users cannot host their blog or site on WordPress server. WordPress.com has limited managing alternative whereas WordPress.org offers unlimited potential for customization and is suitable for technically sound users.