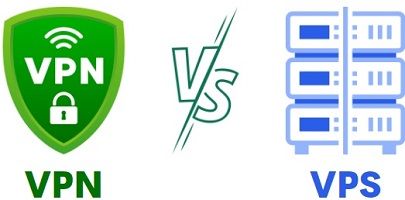 VPN and VPS are similar sounding terms, but they are notably different technologies. A virtual private network (VPN) is a service that allows users to stay safe and anonymous online. In contrast, the virtual private server (VPS) is a kind of web hosting technology that divides a physical server into small virtual servers and makes it available to users to host their websites.
Although VPN and VPS use virtualization technology, they have been designed to accomplish two totally different tasks. But, despite being entirely different services, they are mistakenly grouped together due to their similar names. In this content, we will try to identify all the possible differences between VPN and VPS.
Content: VPN Vs VPS
Comparison Chart
Basis for Comparison
Virtual Private Network
(VPN)
Virtual Private Server
(VPS)
Basic
It is a cybersecurity technology
It is a web-hosting technology
Used
Used to improve the security of their online connection.
Used to host website.
Security
No one can breach VPN security
VPS is vulnerable to cyber attacks
What is Virtual Private Network (VPN)?
VPS or virtual private network services come in the form of software or application. We refer to this software or app as a VPN client installed on the user's computer. VPN client would help your device to create a secure connection to the network of dedicated VPN servers.
The VPN service creates a secret tunnel between the VPN client and the VPN server, which help the user browse the Internet securely. The government, hacker or any other organization cannot breach this secret tunnel which helps maintain the integrity of your connection.
The VPN service and the secure connection maintain anonymity while surfing the web.

How Does a VPN Work?
To use a VPN service, the user runs a VPN client on their device. The VPN client encrypts your data along with the data packet's header, which includes your IP address and destination IP address.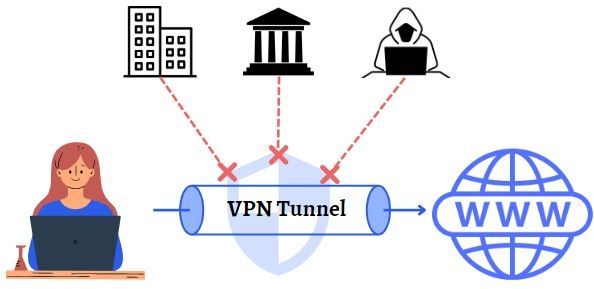 Once your encrypted data packet is ready to go, it is sent over the network of dedicated VPN servers to reach its destination. Thus, you are browsing the Internet through VPN servers. The data packet is decrypted at the last VPN server and handed over to the destination. However, the destination device identifies that the information came from the VPN server and notices its IP address, location, etc., instead of your IP address, location, etc.

When to Use VPN?
VPN is mostly used by people when they often connect their devices to public networks such as:
When connected to public Wi-Fi like at railway stations, cafes, airports etc.
Users use VPNs to browse the Internet privately and don't want to get identified online.
Even to get access to geo-blocked web content. VPN allows you to virtually move to another country by hiding your location.
When you want to avoid cost differences, sometimes the online fare of things such as airline tickets, hotel room rents, etc., vary based on location. As VPN allows you to change your virtual location by connecting you to different locations, you can compare the prizes to get the best deal.
To get rid of targeted ads. The targeted ads are generated based on the data that websites collect about you. But as the VPN services change the IP address of your device each time you connect to the Internet, it makes tracking down your data difficult.
What is Virtual Private Server (VPS)?
A virtual private server (VPS), is a technology used for web hosting. This technique divides a physical server into small virtual servers. These small virtual servers are offered to people for hosting their own websites, apps or other services.
Each of the small virtual servers functions independently from the others; they have their own RAM and their own disk space. Each virtual server act as a private server for the end user.
The key feature of the VPS is that –
It offers you a dedicated virtual server with the freedom to run your desired software.
Offers you the resources you need to use it properly.
A cost-friendly structure that goes well with your budget.
How Does VPS Work?
The virtualization technology used in VPS divides a single physical hardware into several small virtual servers. The technology functions like there is an apartment that has many flats which are totally independent of each other. Though all the flats are under one roof, each has its separate entrance, kitchen, bedrooms, etc.
Similarly, in the case of VPS, each small virtual server has its own operating system, RAM, disk space and other required resources.

When to Use VPS?
The most common use of VPS is web hosting. You usually require the hosting services in the following scenario.
If you are running a heavy application that requires a heavy-duty processor.
In case you want to host high traffic website and require several resources for better performance.
If you want to run applications or software remotely.
If you want to scale up your resources as your business grows.
Key Differences Between VPN and VPS
VPN, i.e. Virtual Private Network, secures your online communication and even changes your online location. However, the VPS offers affordable and powerful hosting solutions.
The users of VPNs are those who want to improve their online connection. On the other hand, the VPS is used by users who want to host their own websites.
VPN is vulnerable to hacking or government surveillance. However, the VPN is specially designed around the security features such as tunnelling, encryption, and IP masking.
Conclusion
Although VPN and VPS are both the technology helpful in the online world, but they are notably different technology. VPN (virtual private network) helps you to browse privately by hiding your online location and secures your communication by encrypting your online activities. However, VPS (virtual private server) helps you to purchase a virtual space online to host a website or application. It provides you with more control, unlike a typical shared server.