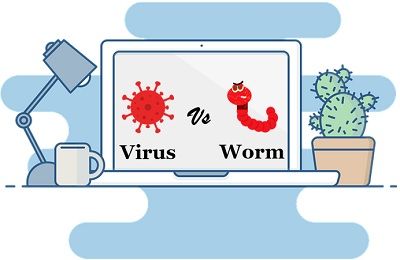 Virus and Worms are malware that is usually created to steal crucial information from the victim's computer. These are the malicious programs, which enter our computers through CDs, Pen drives, email attachments and the files we download from the Internet. The major difference between the virus and worms is that a virus spreads only when the user opens the infected program whereas the worms spread by replicating themselves to the computers connected to the network.
A class of software that we refer to as malware can be classified into two broad categories:
One that needs a host program to reach the victim's computer.
One that doesn't need any host program to reach the victim's computer.
Viruses, logic bombs, and backdoors are examples of malware that need a host program to reach the victim's computer. Worms and zombie programs are examples of malware that are self-contained and don't need any host program to reach the victim's computer and are executed on the operating system automatically.
Content: Virus Vs Worms
Comparison Chart
| Basis for Comparison | Virus | Worms |
| --- | --- | --- |
| Meaning | The Virus attaches itself to executable files and transfers from one system to the other. | A Worm is a malicious program that replicates itself and can spread to different computers via Network. |
| Human Action | Needed | Not Required |
| Speed of Spreading | Slower as compared to Worm | Fast |
| Requirement of host | Host is needed for spreading. | It doesn't need a host to replicate from one computer to another. |
| Removing Malware | Antivirus, formatting | Virus removal tool, formatting |
| Protect the System using | Antivirus software | Antivirus, firewall |
| Consequences | Corrupt and erase a file or program. | Consumes system resources and slows down it, and can halt the system completely. |
What is Virus in Computer?
A virus is software that can link itself to the executable files of a computer. Once the virus attaches itself to any executable file on the computer it will remain inactive until this infected file is executed. The virus will spread to the computer only if the user runs the infected program, until this moment it doesn't show any sign or symptom.
Once the virus has infected your system it can progressively infect the other system on the same network. A virus usually carries its instructional code that alters the way the computer operates. The instructional code of the virus also contains the instructions for spreading from one computer to another. However, the damage it causes could be recovered if good backup and recovery procedures are employed.

Symptoms of Virus in Computer
a frequent pop-up of windows.
Using the disk space,
Completely erasing the hard disk drive,
Changes in your Home page.
Slowing down the computer performance.
Mass emails are sent by your email account.
Modifying personal data, text files,
Unknown programs start as your system boots up.
And can even bring the computer to a halt.
All Viruses are Man-Made and aim to harm the target computer.

Phases of Virus
Dormant Phase – A virus is in its idle state at this stage. It gets activated by some action or event such as a date, time, or presence of another program.
Propagation Phase – In this phase virus generates its copies.
Triggering phase – This phase activates the virus to carry out the required function.
Execution phase – The virus performs the actual function that may be harmless or destructive.
Types of Virus
Parasitic Virus – These types of viruses attach themselves to executable files and replicate themselves when the infected file is executed.
Memory resident virus – These types of viruses attach themselves to a particular area of the main memory and then infect each file that is executed.
Boot sector Virus – The main target of this virus is the master boot record of the disk. It infects the master boot record and begins to spread at the time of booting.
Stealth Virus – This virus has a built-in intellect which prevents it from discovering by antivirus software.
Polymorphic Virus – These types of viruses frequently alter their signature (Identity) at every execution, making them difficult to identify.
Metamorphic Virus – This virus is similar to the polymorphic virus but has additional functionality. It keeps on rewriting itself every time including changing its signature.
What is Worm in Computer?
Worms can invade your computer due to some software vulnerabilities or they might come as an attachment to an email. More often the worm uses a computer network to spread. When the user opens this file it can either link you to some malicious website or it may automatically download a worm to your computer. Once the worm is installed in your system it starts replicating itself in the disguise of system files and infects your entire computer without your knowledge.
How does the worm affect your Computer?
The major goal of most computer worms is to self multiply themselves repeatedly, thereby consuming the system resources such as hard drive space, the bandwidth of your system, and overloading the shared network. Thus the worm reduces the overall speed of your system. In addition to this, worms can even steal your system's data or allow hackers to gain access to your system settings.

Propagation of worms
It spreads from one computer to another via email, network, etc. Worms can transfer themselves from one computer to another by using the user's email address book. It may cause the system resources to slow down or completely halt the task.
The computer worms could spread in the following manner:
Files found in email attachments.
Through a web link or FTP resource.
Links are received through the ICQ and IRC (Internet Relay Chat) messages.
Via peer-to-peer file-sharing networks
Type of Computer Worms
Email worms – Email worms attack your computer's email client and send emails to all present in your contact list. Thereby, it infects all computers in the contact list and then onto their contacts and it will go on infecting exponentially.
Instant Messaging Worms – The instant messaging worm attacks any of your messaging platforms such as WhatsApp, Messenger, Telegram, Viber etc. It then triggers a message to all in your contact list.
File-Sharing Worms – The hacker target the high demand files shared over the peer-to-peer file-sharing network. Once they enter your system they start their work and replicate themselves.
Internet Worm (Network Worm) – The internet worm assesses the vulnerabilities of the operating system it is staying in. It scans the internet to identify computers with the same operating system with similar vulnerabilities and targets to spread to those computes
Key Difference Between Virus And Worms
Worms use Computer Networks to spread themselves while Viruses spread to different systems through executable files.
The spreading speed of a Worm is faster than a Virus.
The virus tends to damage, destroy or alter the files of target computers, whereas, Worms does not modify any file but aims to harm the resources.
The virus needs human action to replicate, whereas Worms don't.
Worms are independent files that exist within an infected computer's memory, whereas viruses are executable files or attach themselves to other executable files to operate.
The Virus needs hosts to spread while Worms do not require any host.
Virus corrupt or modifies the target computer's data, whereas Worms harm the network by consuming the bandwidth, deleting files, or sending emails.
Protection against Virus and Worms
Installation of Anti-virus software and firewall is the primary way to protect your computer.
Monitor the potential data exfiltration.
Update the operating system and softwares regularly.
Enable notifications and alerts.
Observe and inspect file and user behaviour.
Conclusion
Virus and Worms are malware types that are mainly designed to damage your system or breach your system's security. Although, the severity of damage could differ in both viruses and Worms. The virus includes modification in file or program while worms don't commit any changes in file or program; instead, it replicates themselves again and again.