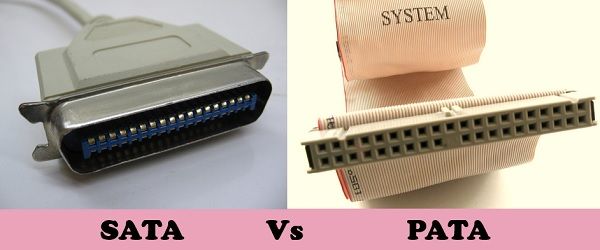 SATA and PATA are the versions of ATA (Advanced Technology Attachment) which describes the physical, transport, and command protocols for attaching the storage devices to the host systems internally. The prior difference between SATA and PATA is that the SATA is later technology which is fast, more efficient and small in size relative to PATA an earlier technology. The Parallel ATA has various limitations related to signal period, integrity and electromagnetic interference.
Content: SATA Vs PATA
Comparison Chart
| Basis for comparison | SATA | PATA |
| --- | --- | --- |
| Expands to | Serial ATA | Parallel ATA |
| Status | Currently in use | Outdated |
| Speed | Fast | Moderate |
| Hot swapping | Supported | Does not support hot-pluggable devices. |
| External interface | Provided | No provision for external interface. |
| Maximum cable length | 39.6 inches | 18 inches |
| Cable size | Smaller | Large |
| Bit rate | 150 MB/s - 600 MB/s | 16 MB/s - 133 MB/s |
Definition of SATA
SATA stands for Serial ATA is computer bus interface used for connecting the bus adapters to the storage devices like hard disk drives. It is advantageous over the PATA as it provides decreased cable size and cost, high data transfer speed, and hot swapping, etcetera. The SATA devices and host adapters interact through the high-speed serial cable over the conductors. It is backwardly compatible because it uses Primary ATA and ATAPI command group as legacy ATA devices.
SATA brought a huge change in the computer hardware where it replaced parallel ATA in customer desktop and laptop computers and also in new embedded applications.
The fundamental SATA connector has two twisted pairs, three ground wires and 7 pins. It implements differential transmission with the clock frequencies varying from 1.5 to 6.0 Gigabits per second. The latter version of SATA also provides isochronous transmission characteristics to enable audio and video devices. To enable hotplug and (NCQ) Native Command Queuing an enhanced technology is implemented in SATA i.e., AHCI (Advanced Host Controller Interface).
Definition of PATA
PATA (Parallel ATA) is the latter version of ATA (Advanced Technology Attachment) and the former version of SATA. As mentioned above these AT attachments are the interface standard for the connection of storage devices (hard disks, floppy drives and optical disks). X3/INCITS committee maintains the standard and uses AT attachment (ATA) and AT Attachment Packet Interface (ATAPI) standards.
The PATA standard is the outcome of the gradual development which was initiated with the original AT attachment interface used in the older PC AT equipment. After the development of the SATA, the basic ATA is renamed as PATA. In PATA the length of the cable can be 18 inches at maximum (457.2 mm). Due to a short length of PATA cables, these are only useful for the internal computer storage interface.
A 16-bit wide data bus is used in the PATA along with supplementary support and control signals. It functions at a low frequency and has 40 pin connectors linked to the ribbon cable. Every cable has two or three connectors, among which one is connected to the adapter interfacing and remaining are plugged into drives.
Key Differences Between SATA and PATA
PATA is outdated technology while SATA is new and currently in use.
SATA rapidly transfer data as compared to PATA, which is slow.
Hot swapping is supported in SATA where the added and removed hardware devices are easily identified by the system when the system is already working. As against, this is not possible in PATA.
PATA enables the external interfacing while it is not the case in SATA.
SATA cables can be 39.6 inches long. Conversely, cables in PATA are just 18 inches long.
When it comes to the size of the cable, PATA cables are bigger than SATA.
The various versions of SATA provide up to 600 MB/s data rate. On the contrary, PATA can offer speed at maximum 133 MB/s.
Conclusion
Among SATA and PATA, Serial-ATA offers several benefits over the Parallel-ATA such as fast data transfer, reduced size of the massive 40 pin connector and cable.