The RJ (Registered Jack) connectors, RJ45 and RJ11 are prevalent connectors used with the UTP (Unshielded Twisted Pair) cables. These connectors can be differentiated by their size, the number of pin and structure where RJ45 has a larger size and number of pins as compared to the RJ11 connector.
RJ45 and RJ11 are the very common RJ ports which are used for different purposes, RJ45 is newer, modular, self-securing and compact technology used for connecting the ethernet cables to different electronic devices. Conversely, RJ11 is used to terminate the conventional PSTN telephone networks.
Content: RJ45 Vs RJ11
Comparison Chart
| Basis for comparison | RJ-45 | RJ-11 |
| --- | --- | --- |
| Application | Used with ethernet cables | Used for connecting telephone wires |
| Number of wires | 8 | 4 |
| Type | 8P8C | 6P4C |
| Size | Large | Smaller comparatively |
| Bandwidth supported | 10 Gbps over ethernet | 24 Mbps |
Definition of RJ45
The RJ45 is an 8 pin connector used to attach the ethernet interfaces. It is known as an 8P8C connector, which means that it contains 8 pin positions among which all of them are connectable. RJ45 describes the physical structure of the connector and how the links are wired from one end to the other.
The RJ45 connectors are used to link the Ethernet networks, it is signified by your ethernet NIC (Network Interface Controller) which have an RJ45 jack on it. We can not use coaxial connectors (RG6 and RG11) and non-modular connector DB25, instead, RJ45 is utilized by several network interface controller cards for attaching to networks like Ethernet. It falls in the class of category 5 cables, However; RJ45 does not match the TIA standard and said to be incorrect with respect to a generic 8P8C connector.
Structure
The RJ45 connector has 8 pins which are connected to the 8 coloured wires grouped into four pairs. Here, four wires (two pairs) are intended to carry the voltage and others are referred to as tip which is grounded. The connector is crimped over the end of the wire and the pin positions are numbered from the left 8 to 1.
Terminating twisted pair cable
TIA/EIA has defined two techniques for injecting the twisted pair cables into RJ45 plugs – 568A and 568B. If these standards are followed in a correct manner then the data can be accurately transferred. The below-given diagram a and b illustrates the pin numbers and assignments for TIA/EIA 568A and TIA/EIA 568B respectively.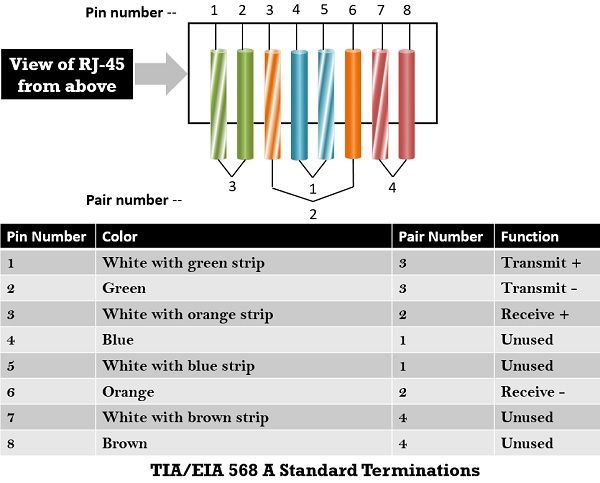 The networking experts consider the configuration shown in the diagram a and b as transmit and receive. Traditionally, the T and R designation stands for tip and ring which are used when the RJ11 connectors are used to terminate old telephone lines.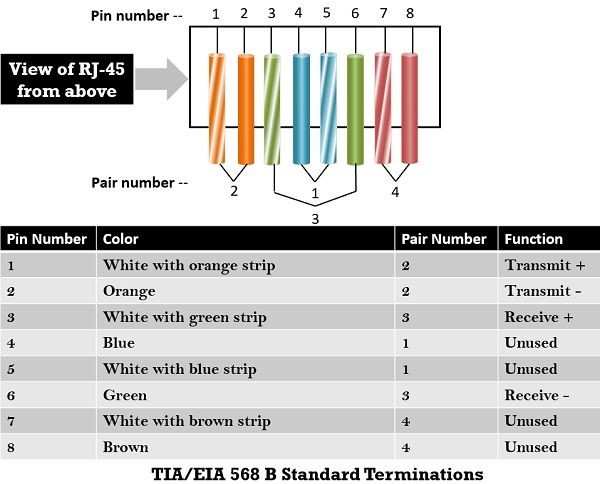 Types of cables based on the termination
Straight-over cable – When an identical configuration for RJ45 plugs is used to terminate a patch cable through following one of the standards shown above, then the generated cable would be known as straight-over cable. These straight-over cables are used to connect a switch to a router or hub, a hub to a PC or server and switch to a PC or server.
Crossover cable – When we terminate the RJ45 plugs at both ends of the patch cable in reverse order (i.e., Using one of the standards from TIA/EIA at one end and the other at the other end) then this cable connection is called a crossover cable. The crossover cable is utilized for linking hub to hub, switch to switch, PC to PC, router to router, etcetera.
Definition of RJ11
RJ11 is a four pins connector which is used for terminating the telephone wires. The other application of RJ11 is that it was also used with analog telephony and modems connected with computer serial ports to transfer modulated digital information using PSTN (Public Switched Telephone Network).
Structure
These are known as a 6P4C connector which signifies that it has 6 pin position but with four contacts or four wires connecting to the central junction box. Two contact positions are linked to the tip and ring while the other two contact positions are left as unused.
The other two remaining contacts from the two tip and ring contacts are used as a ground for selective ringers to avoid ringing of the bell over the other extensions through pulse dialling phones.
Key Differences Between RJ45 and RJ11
From the above discussion, we know that an RJ45 connector is used for ethernet cabling. In contrast, RJ11 connector is used with flat satin cable in telephone hookups, for terminating telephones lines.
The number of wires connected with RJ45 is 8. As against, in RJ11 connector 4 wires can be connected.
RJ45 is an 8P8C connector while RJ11 is known as 6P4C.
The size of the RJ45 is greater than the RJ11 connector.
The bandwidth provided by RJ45 can be 10 Gbps whereas in RJ11 it can be 24 Mbps (applicable for serial ports modems).
Conclusion
The RJ45 and RJ11 are the connectors commonly used in telecommunication where RJ45 is larger and used in Ethernet networks. As against, RJ11 connector is smaller in size and whose interface is used with the single line POT telephone networks.