H.323 and SIP are specifically known for the IP signalling standards. The H.323 and SIP describe multimedia communication systems and protocols. These protocol suites differ in many ways. Essentially, H.323 is derived by ITU before the advent of SIP while SIP is acknowledged by IETF standard.
IP telephony (Voice over IP) was evolved to implement cost savings, which actually produces from regulative taxes levied on long distances voice calls. This type of additional charge is not pertinent to the long distance data transferring. Hence, establishing a data call is more cost-effective than establishing a voice call. Previously, telephony services were provided over the circuit switched network known as PSTN (Public Switched Telephone Networks) or POTS (Plain Old Telephone Services), which is still used in some areas.
Content: H.323 Vs SIP
Comparison Chart
| Basis for comparison | H.323 | SIP |
| --- | --- | --- |
| Origins | Telephony based | Internet-based |
| Designed by | ITU (International Telecommunication Union) | IETF (Internet Engineering Task Force) |
| Endpoint location | Utilizes alias (which is mapped by gatekeepers). | Uses SIP URLs. |
| Call routing | The gatekeeper provides the routing information. | Redirect and location server provides routing information |
| Message Format | Binary | ASCII |
| Compatibility with Internet | No | Yes |
| Architecture | Monolithic | Modular |
| Instant messaging | Not provided | Provides instant messaging facility |
| Scalability | Limited | Better |
| Flexibility | H.323 is not flexible enough. | Highly flexible. |
| Interoperability | Well defined protocols and complete backward compatibility makes it interoperable. | Does not provide interoperability. |
| Ease of implementation | Need of special parser complicate the deployment and debugging. | Reusable elements easily conduct the implementation. |
| Complexity | Quite complex | Moderate |
Definition of H.323
H.323 is the most pervasively used multimedia communication system across packet-switched and IP network as it the oldest multimedia communication protocol standard defined by ITU. Typically, H.323 is comprised of a collection of a protocol designed for encoding, decoding, and packetization of video and audio signals in order to employ call signalling and control.
H.323 protocol suite involves some fundamental components for its functioning :
Terminal: As the name suggests, it is used as the endpoints within an IP network. A terminal can provide signalling and control, two-way communication in real time and codecs.
Gateways: A connection path is provisioned between the packet switched network and circuit switched network is known as Gateways. It can be eliminated when there is no other network is connected. It is used to drive the characteristics of a LAN endpoint to a switched circuit network endpoint or contrariwise where the call setup, control and translation is carried out by gateways.
Gatekeepers: The necessary functions that a gatekeeper implements are address translation, bandwidth control, zone management and admission control, call authorization, call control signalling, bandwidth management and call management. But its main function is to control the endpoints under its rule known as Zone.
Channels Defined in H.323
There are several channels in H.323 which governs the information exchange among the communicating entity, such as RAS, call signalling, H.245 control and logical channel.
RAS (Register, Admission and Status) Channel: The RAS channel offers a strategy to establish communication between endpoints and gatekeepers where the endpoint registers with gatekeeper and requests for the allowance, in order to make a call to the other endpoints. After completing the call, the gatekeeper sends the transport address for the call signalling channel of the invoked endpoint.
Call Signalling Channel: In this channel, the call control and supplementary service control information is transferred. The transport address is specified on this channel after setting up the call.
H.245 Control Channel: The channel transports media control and capability exchange support H.245 protocol messages. H.245 control channel makes the logical channel available for media after interchanging capabilities with call members.
Logical Channel: Audio, video and other media information is carried in these channels. The different media type is transported by the distinct pair of uni-directional channels with the help of RTP (Real-Time Transport Protocol) and RTCP (RTP Control Protocol).
H.323 describes that an unreliable transport protocol (e.g. UDP) is used to carry the RAS and logical channel for the media. While control channel defined to be transported over a reliable transport protocol like TCP.
Definition of SIP
SIP (Session Initiation Protocol) is also a multimedia communication protocol devised by IETF. Similar to H.323, SIP uses RTP to transport media flows. So, the difference between H.323 and SIP lies within how call signalling and control is obtained. SIP is an application layer control protocol used to set-up, modify and end multimedia sessions or calls. Although, it manages the communication between the caller and callee, which includes endpoint addressing and user location.
There are basically two elements involved in the SIP functioning, the User Agent (UA) and a network server.
User-Agent: It remains in SIP end stations and comprises of a User Agent Client (UAC) and User Agent Server (UAS) where the former issues the SIP requests and later generally send replies to such requests.
Network Server: It can be of three types- redirect server, proxy server and registrar.
Servers are not necessarily needed for a basic SIP call. SIP User Agent and network server are analogous to H.323 terminal and gatekeeper respectively. The SIP includes basic two operations where SIP UAC issues request and SIP proxy server functions as the end user location identification and SIP UAS assents the call.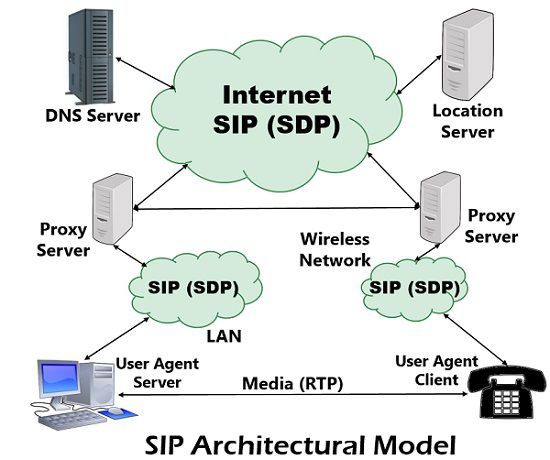 The SIP invitation comprised of: INVITE request and ACK request. The INVITE message holds the session specification that notifies about the type of media the caller can accept and the destination of the media data. SIP addresses are known to as SIP Uniform Resource Locators (SIP-URLs) and expressed in the following format sip:user@host.domain.
SIP message format is built upon the HyperText Transport Protocol (HTTP) message format, where text-based and human-readable encoding is used. Redirect servers handle the INVITE message through transmitting back the SIP-URL where the callee is available. Proxy servers execute application layer routing of SIP requests and response. A proxy server could be stateful or stateless.
To achieve the call signalling functions in IP telephony, SDP (Session Description Protocol) is used in conjunction with SIP protocol.
Key Differences Between H.323 and SIP
H.323 protocol is based on telephony while SIP is based on internet.
The H.323 standard body is ITU. In contrast, SIP is designed by IETF.
To determine the endpoint location H.323 uses an alias which gatekeeper maps (i.e. host or telephone number). As against, in SIP addressing is done using URL.
Gatekeeper plays an important role in call routing and provides routing information in H.323 whereas in SIP the redirect and location servers are used for the particular purpose.
H.323 follows binary message format. Conversely, SIP uses ASCII message format.
H.323 is not compatible with internet while SIP has the compatibility with the internet.
The architecture of H.323 is monolithic. Inversely, SIP is built on the modular architecture.
SIP offers the instant messaging facility. On the contrary, there is no such facility in H.323.
SIP is more scalable, flexible and easily implemented and adapted. In contrast, H.323 is less scalable and flexible, and difficult to implement and adapt to new applications.
When it comes to complexity H.323 is a step ahead than SIP.
Conclusion
H.323 is a telephone industry standard usually considered as heavy-weight. It describes the entire protocol stack, precisely determine what is permitted and what is prohibited. The systematically defined protocols ease the task of interoperability, but it is complex, an inflexible standard which is hard to adapt to future applications.
On the other hand, SIP is a common Internet protocol that functions by interchanging short lines of ASCII text. It is highly modular, simple, flexible and lightweight which easily integrates with other internet protocols but does not collaborate with existing telephone system signalling protocols.