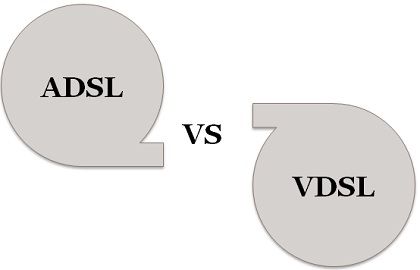 ADSL (Asymmetric Digital Subscriber Line) and VDSL (Very High Bitrate Digital Subscriber Line) mainly differ in the speed of data transmission or data rate, where VDSL is significantly faster than ADSL. ADSL provides upstream rate 64 Kbps to 1 Mbps, and downstream rate 500 Kbps to 8Mbps whereas VDSL provides upstream rate 1.5 to 2.5 Mbps and downstream rate 50 to 55 Mbps.
ADSL and VDSL are the variants of DSL technology. DSL stands for Digital Subscriber Line which basically transforms an ordinary telephone line into a broadband communication link.
Content: ADSL Vs VDSL
Comparison Chart
Basis for comparison

ADSL

VDSL
Data Rate

Upstream- 64 Kbps to 1 Mbps
Downstream- 500 Kbps to 8Mbps

Upstream- 1.5 to 2.5 Mbps
Downstream- 50 to 55 Mbps
Loop reach

18000 feet
4500 feet
Service types
Data and POTS shared line

Symmetric data and POTS

Principle application

Internet access, data HDTV, VOD (video on demand).
Internet access, data

Modulation used

CAP or DMT

DMT
Common protocol
PPP over ATM

ATM
Definition of ADSL
Asymmetric digital subscriber line (ADSL) as the name suggests the distribution of bandwidth is not identical, which means it provides unequal data rates at upstream and downstream. The bit rate at downstream is usually higher than the upstream.
The twisted pair cable bandwidth (i.e., 1 Megahertz) is split into three bands by ADSL. The first band ranged from 0 to 25 kHz and utilised as a regular telephone service (also known as POTS). Additionally, the service consumes only 4 kHz of the band, and the remaining is used as guard band which separates the voice channels from the data channels.
The second band ranges between 20 to 200 kHz, is used for upstream communication. The third band usually ranges between 200 to 1 MHz, is used for downstream communication. The ADSL technology can cover a distance up to 18000 feet.
Definition of  VDSL
Very High Bitrate Digital Subscriber Line (VDSL) technology is similar to ADSL with some enhancements. It uses coaxial, fibre optic or twisted pair cable for short distances up to 4500 feet. The modulation method used in VDSL is DMT (Discrete Multitone Technique), which is the combination of QAM and FDM.
VDSL offers higher capacity than ADSL on short lines. Another merit of VDSL is the security which it offers by point to point links. It uses seven different bands for enabling customization of upstream and downstream rates.
VDSL covers existing services like POTS, ISDN, ADSL, etc. VDSL is appropriate for the full-service network; it provides services like High definition TV and VOD(Video on demand).
Key Differences Between ADSL and VDSL
ADSL provides maximum 8Mbps downstream bit rate and 1 Mbps upstream bit rate. On the other hand, VDSL provides 55 Mbps downstream bit rate and 2.5 upstream bit rate.
ADSL technology covers a larger distance than VDSL, where ADSL can cover 18000 feet, and VDSL can reach up to 4500 feet.
VDSL can support asymmetric as well as symmetric data and POT services while ADSL supports only asymmetric data and POT services.
VDSL can offer applications such as High definition TV and VOD which could not be possible in case of ADSL.
ADSL is more extensively used as compared to VDSL.
VDSL can easily be affected by attenuation. In contrast, ADSL immune to attenuation at some extent.
Discrete Multitone Technique (DMT) is used in VDSL for modulation. On the contrary, ADSL can either uses CAP (Carrierless Amplitude/ Phase) or DMT.
Conclusion
ADSL and VDSL are essentially the types of Digital subscriber line technology. VDSL provides higher data rates for short distance of twisted pair copper telephone lines while ADSL offers low data rates as compared to VDSL but covers a longer distance than VDSL. VDSL has certain demerits such as it is expensive and the signal speed degrades as the distance increases.