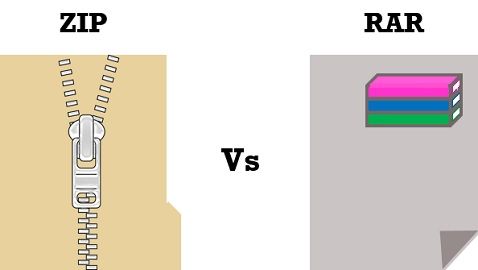 There are several types of file format exists in the computer world, among them, an archive file format used to store different types of files in a single container. ZIP and RAR are the archive format mainly differ in the way that ZIP is a standard file format which is enabled by any operating system, but the RAR format needs other supplementary tools for their processing.
Content: ZIP Vs RAR
Comparison Chart
| Basis for comparison | ZIP | RAR |
| --- | --- | --- |
| Basic | Standard file format works well with different implementations. | Proprietary file format requires third-party software for its functioning. |
| Developed by | Phil Katz | Eugene Roshal |
| Invented in the year | 1986 | 1993 |
| Software support | Can be handled by the operating system. | Third-party software is required. |
| Compression rate | Low | High |
| Decomposition | Impractical | Possible |
| Password-based protection | Provided | Not provided by windows and Macintosh |
| Filename extension | .zip and .zipx | .rar, .rev, .r00, .r01 |
Definition of ZIP
ZIP is the archive file format devised for lossless data compression. It can contain a set of one or more files or subdirectories and uses .zip or .ZIP file extension. Phil Katz was the developer of this file format, and it took place in the year of 1989. Initially, it was employed in the PKZIP utility of PKWARE Inc, thereafter it was also supported by other software utilities such as Microsoft has integrated the built-in support in the versions of Microsoft Windows since 1998.
The ZIP files are primarily used for downloading software where before transferring it, all the components of a software program are encapsulated inside a single file. This procedure or method is beneficial in terms of storage space and time, where the file to be sent can be stored by consuming a smaller amount of storage space. It also reduces the downloading time simultaneously retaining the hierarchy and organization of the several files inside a single zip file.
ZIP files can also be used when the user wants to share and download a large number of files at a time such as a set of images. If each image is sent by email individually, the process will take a lot of time and effort. So, ZIP file is a better alternative for these types of application. There are several compression and decompression tools developed for creating ZIP files such as Win ZIP, Freebyte Zip, 7-Zip, IZArc, etcetera.
Definition of RAR
The RAR stands for Roshal Archive used for storing one or more than one type of files within a container. Other applications of RAR is the error recovering and file scanning. However, RAR requires a specific software for extracting and creating the RAR file i.e., WinRAR as it was the only software at that time which was licensed for the decompression of RAR files. Similar to ZIP, RAR is also used for compression and transportation of the files such as file sharing websites, downloading computer software and software distributor software.
Aside from reducing the download time, the compression rates of RAR are very much larger than that of other archive file format. WinRAR is a 32-bit window based software of RAR archiver and archive manager. The important characteristics of WinRAR are the intense general and multimedia compression, ZIP compression and decompression, a capability of operating on the non-RAR archive formats, massive filename support, programmable self-extracting archives, authentication, encryption, repairing of faulty archives, embedded file comments.
Key Differences Between ZIP and RAR
The ZIP format is an open source standard provided for storing a group of files into one archive. On the other hand, RAR is similar to ZIP but comes under the proprietary format.
There are several zipping tools are provided with the operating systems for the ZIP format. In contrast, for RAR archives we need an additional tool for processing (compressing and decompressing) the multiple files.
When it comes to compression rate, the RAR format is far better than the ZIP format as it can compress a file to the extent of 11 percent higher than that of ZIP.
RAR decomposes a huge file into subparts while this is not achievable in case of ZIP.
ZIP offers a password based protection but in RAR format users doesn't have this privilege.
RAR employs AES-128 encryption method. As against, in ZIP 2.0 encryption algorithm is implemented.
Conclusion
ZIP archive format is more prevalent and excessively used as compared to RAR. This is because of some particular reason such as ZIP is open source, provided as an embedded utility with every operating system and devised before RAR when there were no efficient archive related formats existing.