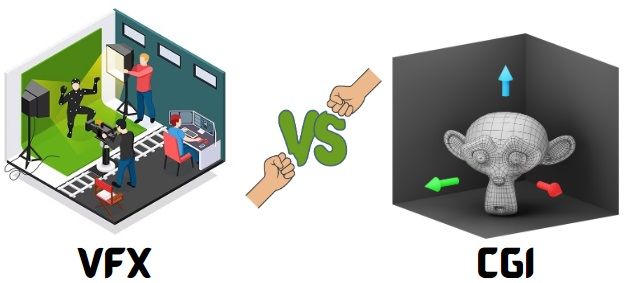 VFX and CGI have been an eternal part of the entertainment industry from the very start. VFX, i.e. visual effects, are the effects applied on live-action footage to create a scene that would have been impossible to capture physically. Thus, using VFX, they are created virtually using computer graphics.
On the other hand, CGI, i.e. computer-generated imagery, is an integral part of the VFX. CGI generates 2D or 3D models, illustrations, and digital images – in short, anything created digitally on a computer platform is CGI.
So once a model, an illustration or a scene is created using CGI, the VFX is used to enhance or manipulate the scene to its final stage.
Most of the audience often gets confused between VFX and CGI. They end up thinking that both are the same, but they are not. In this content, we will discuss how VFX and CGI are different from each other.
Content: VFX Vs CGI
Comparison Chart
| Basis for Comparison | VFX | CGI |
| --- | --- | --- |
| Full Form | Visual Effects | Computer Generated Imagery |
| Basic | Anything that adds special effects to the primary live-action footage is a VFX. | Anything that can be digitally created on a computer platform is CGI. |
| Time | While creating VFX, time plays an important role. | While creating CGI, one has to not worry about the timings. |
| Used | They are used to manipulate or enhance live footage. | They are used to create original digital content. |
| Flexibility | Limited by the footage it is enhancing or manipulating. | It is more flexible than VFX. |
What is VFX?
VFX, i.e. visual effects, are the computer-generated effects added to computer-generated imagery or to live-action footage to enhance its reality onscreen. It creates such an illusion onscreen, which makes the footage more believable and interesting to the viewer.
The film industry used VFX from the beginning; nowadays, it is also used in advertisements and gaming. VFX aims to take fake or unrealistic imagery or footage and make it look realistic or at least believable on screen.
We mostly use VFX to create scenes that are impossible to create physically. Although the visual effect can be practically shot – for example, capturing the explosion of cars on-set in a car chase. But shooting such scenes is expensive, risky and nearly impossible. With VFX creating the scene virtually reduce the producer's expense, and it's even safe.
Who Creates VFX?
VFX artists specialise in computer animation, 3D modelling, compositing and editing or perform all the processes of creating VFX.
Software used –
Adobe After Effects
Black Magic Fusion
Blender
Mari
Maya
Types of VFX
VFX can be done in three ways
Motion capture – Combining two or more live-action footage and digitally manipulating or enhancing them to make them look more realistic. In this method, the actors perform their scenes wearing a motion capture suit that is completely covered by tiny dots. The advanced camera records these tiny dots' movements and converts them into data. The VFX artist uses this data to generate a believable, realistic character.
For example – Jake Sully in Avatar
CGI – Creating the entire scene using computer-generated imagery, manipulating and enhancing it digitally to look real. While creating the video using CGI, no real-world footage is used.
For example – Toy Story
Compositing and Green screen VFX – Combining two or multiple images into a single image. This technique commonly involves filming with a green screen, and the background is either a template filmed separately or imagery created using computer graphics. While compositing, the green screen is replaced with the required background.
What is CGI?
CGI is computer-generated imagery where 2D or 3D models, illustration or background scene is created with the help of computer graphics. Although CGI is one of the types of VFX, it is totally independent. We can create a video with special effects only using CGI without the help of VFX.
Thus, CGI incorporates all that could be digitally created on a computer platform. This creation could be an image or video that is used for movies, ads, games, or animations.
Who Creates CGI?
A CGI artist must be specialised in computer graphics, computer science, art, animation and film studies.
Software Used –
Adobe After Effects
Autodesk Maya
Autodesk 3DS Max
ZBrush
Autodesk Mudbox
CGI is created in 6 stages –
Modelling – In the initial stage, a 2D or 3D model is created. The artist here mainly focuses on the physical features of the model. The raw model is then forwarded to the texture department.
Texture – At this stage, the artist works on the texture of the 3D model. According to the character, the texture is given to the 3D model, and it is passed to the lighting team.
Lighting – The lighting artist adds depth and realism to the computer-generated image, model or video by adjusting the color, placement and intensity.
Animation – The animation artist puts the creation until now into action. The model is tested to make sure it moves how you want it to move.
Compositor – The compositor composites all the elements of CGI and renders the final video. Although it might not be perfect at the first rendering, the process is exercised and tested until perfect animation with effects is observed.
Key Differences Between VFX and CGI
VFX stands for Visual Effects, whereas CGI stands for Computer Generated Imagery.
Anything that we can digitally create using a computer is CGI. However, anything that adds special effects to the primary live-action footage is VFX.
While creating a VFX, one must match up with the time. Suppose in primary footage that the actor is pretending to fight with a lion; then the timing of his fighting actions must match the appearance of the lion on the screen. However, while creating CGI, the creator must not be worried about the timing as the imagery does not have to match timing with anything.
VFX manipulates and enhances the live footage and makes it realistic or at least believable. However, in CGI entire process is done on a computer platform; it does not include any real-world footage.
CGI is completely flexible as it does not include any live-action footage to which it has matched the effects; instead, the imagery can be edited at any stage of CGI until a desired output is rendered. On the other hand, VFX is somehow limited by the primary footage it is manipulating or enhancing.
Though VFX and CGI are closely related, they are different in terms of their characteristics. CGI usually becomes part of the process if VFX is used to render a movie. Although VFX and CGI are independent of each other and they can be created independently of each other.